Tall Tree Tastings - A New Business & Success Story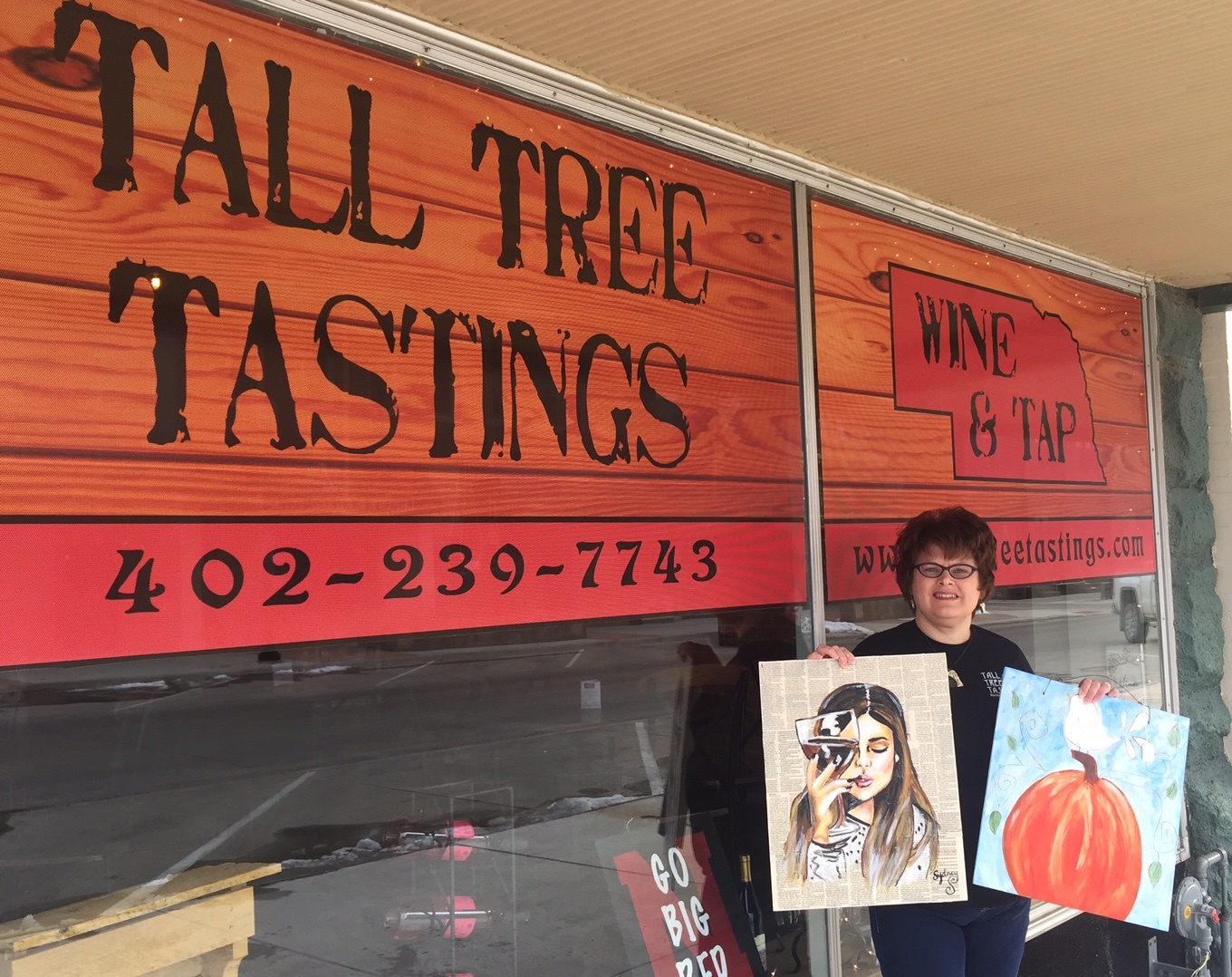 30 Mar 2017
small business, new business, beatrice business, tall tree, local entrepreneurs
This month, we are proud to feature a local success story - Tall Tree Tastings, a startup in Beatrice. Located on 5th Street, Tall Tree Tastings is the brainchild of owners Denise and Brad Pahl. Wine and beer lovers can stop by and enjoy what Denise calls an "overlooked part of the Nebraska economy" – locally produced wine and beer. Nebraska may not be famous for wine like Napa, but local wineries are producing incredible varieties using grapes grown from our rich soil. Thanks to the Pahl's, you can taste a variety of Nebraska wines and locally crafted beers, without ever leaving Beatrice.
The Journey
The road to entrepreneurship is a journey that typically begins with a simple idea. For Denise and Brad, time spent visiting local wineries was enjoyable and a fantastic way to relax on the weekends. Looking for a "Plan B" after teaching for 27 years, it suddenly dawned on Denise that they could bring Nebraska wines back home to Beatrice. Not everyone can leave to leave town but most can head towards Main Street to see what treasures Tall Tree Tastings has discovered. Everything they sell is either from Beatrice directly or from Nebraska, making this a true "local" business.
The Team
Denise Pahl has a theory of "Next". Never having started a business before, she realized quickly that taking an idea and turning into an operating business would take a lot of tools and resources – ones she did not have. She was unsure of how to write a business plan on her own or how to create financial projections, for example. She also did not know where to look for business funding beyond traditional banks. Rather than getting stuck, she implemented her theory of "Next" that involves identifying what she needed at each step and who she could approach for help with that aspect of starting her business. "I think it's important for you to have those next people identified because building a business is really a team effort and if you don't know the answer, you need a team of people where you can find the answer".
This is where NGage and Beatrice Main Street came in. Prior to securing funding, Denise received assistance developing her business plan, financial projections, and preparing her loan applications. These were critical steps that were necessary to prepare the Pahl's to receive funding for their new business. Beatrice Main Street then provided the bulk of the necessary funding followed by additional financial assistance from the Rural Enterprise Assistance Project (REAP), a resource partner of NGage. "This was a business boost for me because it showed that local people believed in our business and that it would work and be successful."
The Results
After receiving startup tools, support, and funding, Tall Tree Tastings opened its doors. Within the first couple months, they sold through over 240 bottles of wine. For the past six months, the business has been entirely self-sufficient without requiring any personal capital from the Pahls. That is the first step in business success and made possible, in part, due to the combination of hard work and taking a team approach. In our interview, Denise said, "I'm not any smarter than anybody else. People think there is some magic to starting a business but it is working hard and loving people and people will love you back. Entrepreneurship is alive and well in Nebraska and it's not as hard if you can find the right team."
We Can Help
At NGage, we were proud to help the Pahl's and can assist you as well. We can become part of your team, connecting you with the tools and resources you need to launch a business or to grow one you currently own.
How can we help you to achieve your business goals?